Overview
Celtx vs. Final Draft
Whether you're writing your first screenplay, pitching a pilot to Netflix, or producing your next short film, scriptwriting software is essential to bring your story to life. When selecting scriptwriting software, many writers narrow their choice to Celtx vs. Final Draft. But which of these widely recognized brands is best for you and your budget?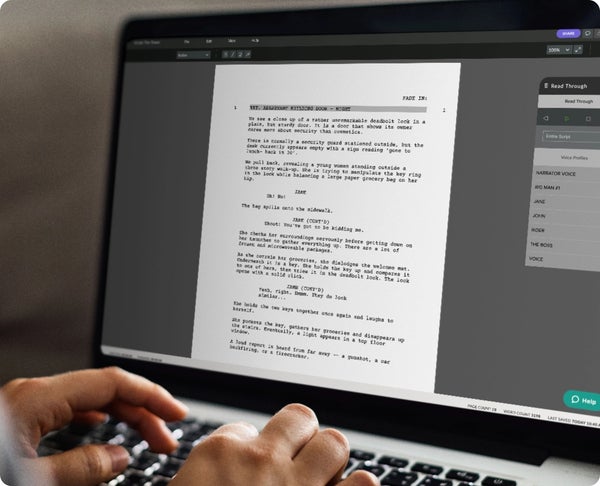 Celtx
Celtx is an industry-standard online scriptwriting software for the early stages of media production. Celtx's all-in-one studio helps writers take their ideas from script to shoot using scriptwriting, story development, and production tools for film & TV, documentaries, stageplays, and other scripted content formats.
The Celtx Studio is conveniently accessible from any web browser and does not require installing or inputting software licensing keys. As new features become available, users have immediate access to them without any upgrades.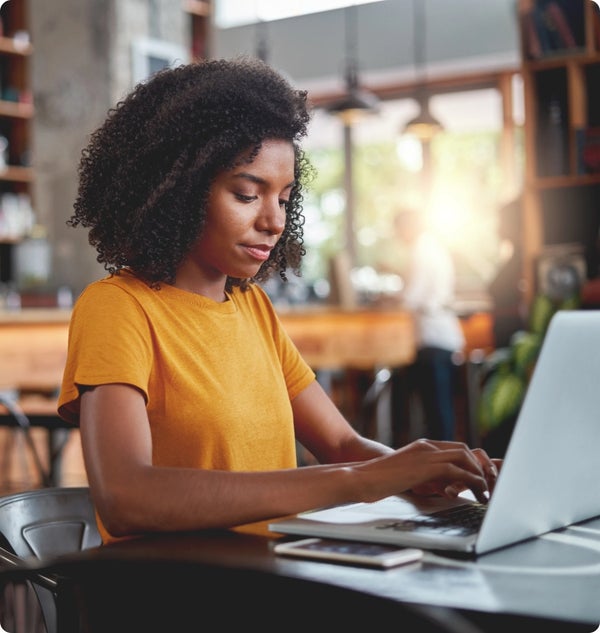 Final Draft
Final Draft is a dedicated scriptwriting software designed for writers to create scripts for television and films. Its features include outlining and industry-standard formatting tools, as well as scene navigation. Additionally, it offers a library of templates and sample scripts, allowing writers to draw inspiration from other projects.
Final Draft does not offer pre-production or production planning tools and comes at premium price catering to Hollywood professionals. It's available as a software download with two activations, meaning your use is limited to two devices, whereas Celtx does not impose a limit.
Upon signing up for Final Draft, users must wait for a trial key to enable a desktop software installation on Mac or Windows. New features are accessible through a paid software upgrade that requires user installation.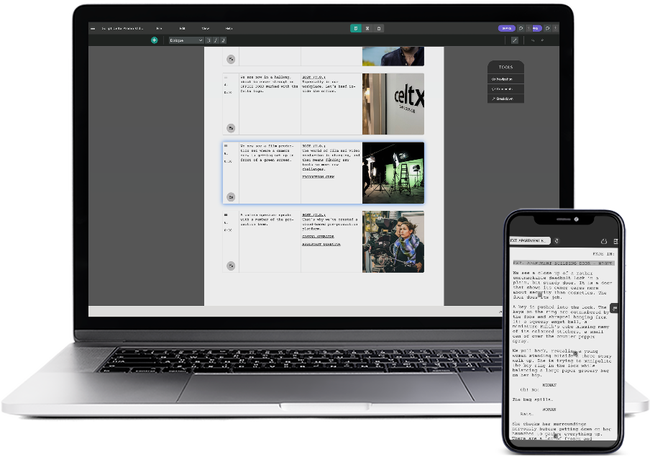 Compare
Why choose Celtx vs. Final Draft?
Celtx scriptwriting software provides you with everything you need to write, produce, and manage your projects. It includes comprehensive plans for every stage of your writing process, from brainstorming and outlining your story to storyboarding and pre-production planning and production. Celtx scriptwriting software has everything you need to write and produce your projects with affordable plans for writers and filmmakers for any type of project.
Our software comparison provides an overview of the features, benefits, plans, and pricing of each so that you can choose the one to support your growth as a writer today and tomorrow.
Final Draft
Celtx
Writing
Industry-standard script formatting
Screenplay template
Stageplay template
AV script template
Two-column
Multi-column
Title page
Script drafts
Revision mode
Script analytics
Collaboration
Limited
Text-to-speech
Limited
Night mode
Mobile companion app
Story Development
Beat Sheet
Script analytics
Storyboard
Script Management
Script backup
With file hosting service
Sync script to the cloud
Script Goals
Episodic projects
Pre-Production
Breakdown
Catalog
Shot list
Schedule
Cast & Crew management
Script sides
Production
Budget
Call Sheets
Production reports

Get Started for Free

See Celtx plans and pricing for an overview of included features by plan type.
Celtx has been absolutely instrumental to this degree. To me, Celtx is hardware. It is an essential scriptwriting and filmmaking tool – just as essential as the camera. I'm so glad we couldn't afford Final Draft."
Ian D. FlemingDirector, Writer, Producer & Educator
University of the Arts London
Pricing
Scriptwriting on a Budget with Celtx
Celtx offers affordable plans designed for writers and filmmakers of all levels. Pay only for the tools you need, and unlock additional features as you develop your script or plan for production.
Final Draft
Digital Download
$249.99 USD
Requires installation.
2-device license restriction.
Upgrade fee.
Celtx
Cloud-based
Writer Plan Starts at
(Billed Yearly)
Limited free plan available.
Access anywhere from any web browser. No device license restriction. Cancel anytime. No upgrade fee.
See Celtx Plans & Pricing
Focus on telling a story, not formatting your script
We take care of the formatting so you can focus on writing your script. Celtx automatically formats elements like dialogue, scene headings, shots, and actions to industry standards. Write like a pro using multi-format script editors for various media, including screenplay, stageplay, AV, documentaries, and more.
Go from script to shoot with Celtx
Want to take your inspiration further? Unlock more scriptwriting and filmmaking features when you need them. With Celtx, you can access story development tools to plot your great ideas or call the shots with professional pre-production tools. Whether you're writing a script for a film or producing a project, Celtx is the one studio to rule them all.
Celtx turns a draft into your finest script 
Already writing a draft with another scriptwriting software? Easily import your work-in-progress script document formats, including PDFs, Final Draft (.FDX), Fountain, text (.txt), Microsoft Word (.docx), and Google Docs (.gdoc) formats.
Import your script into Celtx
Tools for connected creatives
Collaboration is made easy in Celtx. Give creative license to other Celtx users to read, write, or edit your script. And with features like commenting and script-anchored feedback, you and your co-writers can stay on the same page.
Celtx takes your script from good to great with these features
Script history
Screenplay writing is an iterative process. Celtx automatically saves your work as you write. Instantly revert to a previous version of your script with history restore, sorted by day, or name a favored draft of your script for future reference.
Read-through mode
Bring your script to life with characterful and fully-customizable text-to-speech playback that allows you to hear your dialogue as if it were being spoken by real actors.
Cast & Crew
Celtx keeps your personnel organized. Easily track every member of your cast and crew in one place, with the ability to break down crew members by department, add details, contact information, and budget needs.
Create your Celtx account today
Get instant access to always-free Celtx scriptwriting tools or try the Writer Pro plan. No credit card required.
See Celtx Plans & Pricing
Blog
Break into scriptwriting with insightful articles from Celtx
Get started today with Celtx's all-in-one studio for writing, story development, pre-production, and production.
Used by writers in 180+ countries
Over 5 million verified Celtx accounts
Used in 25,000+ educational institutions
Get Started